Giving out an accessories games as a "treat"
It's been a while since I like to upload accessories at a time like this.
Probably you guys already notice, but it's a little late to talk about Halloween and puns, right? Wrong! So long as the following week isn't over, I can talk about the sugary sweet and the horror monsters that roam in the neighborhood as much as I like.
It's that simple, but not the products I'm showing you guys down below. Take my "sweet" offer from my "heinous" hands.
Good old bendy Mask
Unique soft latex mask
Take it and you are the one you want
It's Green and Environmental Protection
There is no plastic smell
Best gifts for Christmas Day, Halloween, Mask Festival or Dance Party
NOTE:
1.Not for children under 3 yrs
2. If you are allergic for latex, please do not wear them
3. If you think this mask has a little odor, just don't worry, it's the normal odor of latex, put it under ventilated place for one day, the odor will disappear.
1.Made by 100% high-quality environmental protection latex, non-toxic, very soft.

2.No plastic smell, it will look amazing and feel comfortable when you go to meet your friends.

3. About 300g weight.

4. One size fits most adult child/heads.

5.Perfect for masquerade Halloween, Christmas, Costume parties, Nightclub, Back to school, Video chat or another occasion.
Rating: 4 out of 5
Customer Review: 2
Alice Madness Returns Cosplay Necklace
Alice: Madness Returns Necklace

High quality

Material: metal

Best gift~
Rating: 4.8 out of 5
Customer Review: 8
Spirit Adult Ezio Costume
To be the Mentor of the Italian Brotherhood of Assassins, you need to look the part! Get ready to help Christopher Columbus or spread the Renaissance ideals in our exclusive hooded jacket with ruffle detail, belt, sash, and eye-catching cape. This elaborate costume also includes a brown chest belt, gauntlet, and glove, perfect for fitting any sword or crossbow. Your enemies better beware of the revenge you're ready to bring this Halloween!
Polyester

Imported

Calling all gamers: This one is for you! Represent your favorite Assassin's Creed character this Halloween when you dress up in this officially licensed Ezio costume. You'll impress every gamer friend that you have with your authentic style.

Exclusively at Spirit Halloween

Officially licensed

Includes Hooded jacket with attached shirt, belt and belt sash, chest belt, cape, glove, and gauntlet.
Rating: 3.9 out of 5
Customer Review: 41
Fallout Vault tec 111 Backpack
Fallout Vault-Tec Suit Up 111 Armored Laptop backpack is an instant classic. This backpack includes multiple zippers, pockets, and adjustable padded straps. Perfect for school or travel.
Rating: 4.9 out of 5
Customer Review: 89
An actual kingdom hearts Fantasy "Keyblade"
Be your own hero with the Giant Metal Fantasy Golden Key To The City Gamer Sword! It features an all metal construction with a giant key head, black wrapped handle that feels nice and smooth. It also features a chain dangling at the tip of the handle just like in the game. You can give this prized possession to your friend as a gift or keep it for yourself. The Giant Metal Fantasy Golden Key To The City Gamer Sword makes a great display or completes your perfect KH Costume!
Rating: 4.1 out of 5
Customer Review: 333
Dragon ball z Crystal glass ball
If you've ever dreamed of summoning the Eternal Dragon to grant your deepest wishes, these replicas are as close to the real thing as you'll get. Our true-to-life models of the iconic Dragonball Z artifacts are built from sturdy, high-quality materials and engineered to last.
They're the perfect addition to an anime collector's shelf and an awesome way to complete your convention cosplay. Each purchase includes 7 Premium 75mm Dragon Ball Replicas (one of each) Microfiber Cleaning Cloth Collectible Display Box.
Rating: 4.2 out of 5
Customer Review: 179
Final Fantasy X Blue Stone Necklace Pendant Cosplay
*One size fits most adults

*Highly detailed

*Great costume accessory

*Give as a gift!

*Brand new in box
Rating: 4.1 out of 5
Customer Review: 25
Naruto's very own green froggy (Wallet)!
This wallet can hold more coins than you spend on it. Extremely cute and amazing frog will make your day better whenever you take a look at it. Based on famous Japanese animation Naruto, this lucky frog wallet was designed to keep your coins safe and handy.
As a symbol of a good luck, the frog wallet assures that the money will come back soon if it is spent. It is happy when it is fat and stuffed with money!
A simple way to protect your personal items.
Durable material will serve for many years.
Made from soft and smooth velvet cotton.
High-quality exterior.
Purse sizes: width 8 cm/3.1 in, length 9 cm/3.5 in.
Rating: 4.2 out of 5
Customer Review: 410
My favorite sexy and strong lady: B2. Neir automata costume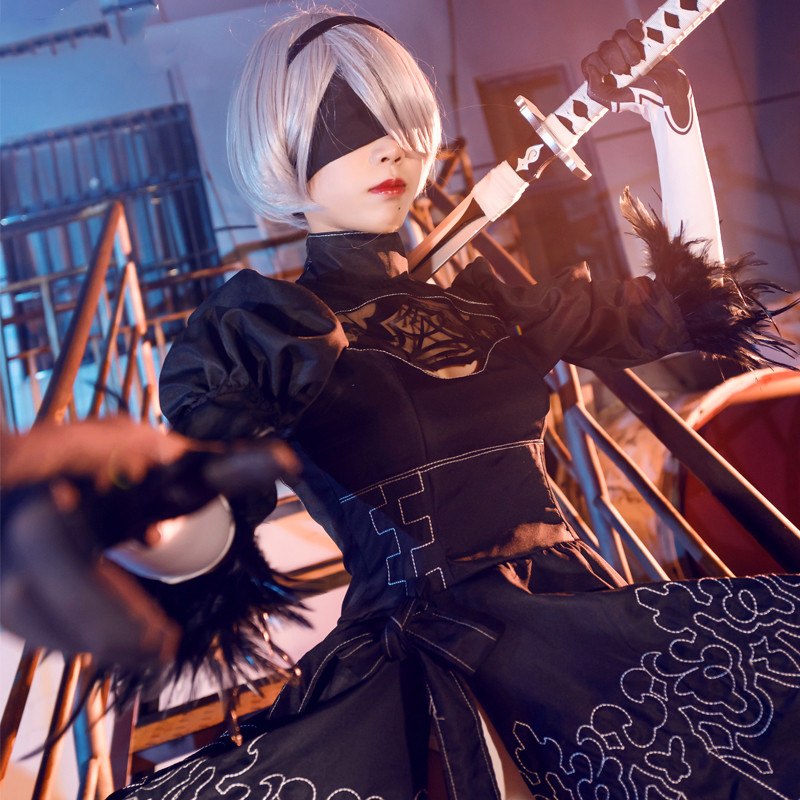 2B Costume features:
Great Quality: This 2B cosplay bodysuit and skirt are crafted from soft and sturdy suede, which is stretchy and heavyweight.

Nice Details: This 2B costume has feathers on the mutton sleeves, beautiful embroidery on the skirt, and black mesh cut out on the front and back.

True To The Game Outfit: The whole design and all details make it look very much like the 2B's outfit in the game Nier.
Prevent From Exposure: The white bottom is connected to the top, which protects you from accidental exposure.
What's in the Package:
1*Leotard
1*Skirt
2*Boot Covers
2*Gloves
1*Headband
1*Blindfold
1* Bow
Materials:
Leotard & Skirt: Suede
Gloves & Boot Covers: Elastic PU Leather
Notes:
The wig and shoes not included.
Please hand wash the dark part separately.
Rating: 4.3 out of 5
Customer Review: 54
It's also been a while to text like this, but I have a reason why I haven't texted post down here and write whatever suits my needs.
That will be on another occasion, but now selected which one you like to select a product that you like to choose. Also, tell me more accessories here on the committed below so I can find out more to your liking choosing. Thanks again for reading guys.