Super Mario Bros: Mario & Luigi Baseball Caps

Red Mario (M) cap x 1
Green Luigi (l) cap x 1
Materials: Cotton
This is a baseball hat, unisex cosplay cap
100% Brand New and in sealed packaging
High-Quality items
Makes a great gift
Comfortable fit
One size fits Most Adults & Kids.
Adjustable strap on back of the hat
Suit For Collection, Gift, Casual use.
It is a great item to wear every day or complete a costume
the brim of the hat is 2.35inch
Hat depth is 6.3inch
The diameter of the hat is 7.5inch
Rating: 4.6 out of 5 stars
Customer Review: 189
Legendary Link Master Sword of Time
Proprietary Swords Axe etched pattern on scabbard, shown in the picture.
Blade Material & Sharpness: High Carbon Steel, Oiled for Preservation, Unsharpened, Factory Angular Edge.
Scabbard: Wooden, Blue Gloss Finish, Metal Fittings, Textured Gold Trim.
Features: Triforce Engraved On Both Sides of Blade.
Overall Length: 40 Inches. Blade Length: 27 Inches. Blade Thickness: 4mm.
The blade has the Triforce symbol etched on both sides and is made of high carbon steel with a sturdy tang. The handle is finished in blue and gold like in the game. Moreover, the sword comes with an amazingly detailed scabbard.
The scabbard has antiqued metal fittings at the top and bottom, and the gold trim is textured. This is a very high-quality version of the Link Master Sword that you will be confident in it's durability.
Rating: 4 out of 5 stars
Customer Review: 162
Devil Trigger Magical Japanese Katana Replica Sword
This extremely rare sword offers a 440 stainless steel blade with a traditional Japanese white wrapped handle and comes with cast metal guard and butt cap. It is 40 inches long and from a popular video game.
The Yamato or in English "Devil Blade" is Vergil's trademark dark-forged blade appearing in Devil May Cry, Devil May Cry 3, and Devil May Cry 4. It is a legendary sword that was once wielded by his father and was left to Vergil as a keepsake.
It resembles a Japanese katana, though it is said to be able to cut through anything as it is even sharper than a katana and is imbued with tremendous magic.
These qualities are important in its ability to both open and destroy the Hell Gates, but also allow the blade to slice through the fabric of space itself.
Now you can feel the Magic in this magnificent which is wielded by Vergil. It features a 440 stainless steel sword blade which offers a faux hamon (tampered line) line and a factory sharp edge.
This sword is a display and cosplay piece, so do not try cutting or sharpening the blade. The polish brass color cast metal tsuba (guard) offers an intricate design while the kashira (butt cap) features a dragon design.
The Tsuka (handle) is wrapped using traditional Ito (braid) with a white cotton cloth. The Saya (scabbard) features a dull black finish with brass color cast metal scabbard mouth and scabbard tip.
The Saego (cord) on the scabbard is made to transcend the nylon ribbon shown in Devil May Cry. This sword will complete your Devil May Cry collection.
Overall Length: 40 inch
Blade Length: 27 inch
Blade Material: 440 Stainless Steel
Handle Length: 10 inch
Scabbard Material: Wood with Black Finish
Rating: 3.6 out of 5 stars
Customer Review: 71
Pokémon Pikachu 3D LED Night Light
The 3D visual creative lamp is an innovative artistic atmosphere light, optical acrylic light guide plate engraving a variety of 2D graphics, 3D visual impact, led source, import SCM process control,
Widely used in various environment decorations, improve environmental artistic taste, showing warm fresh, fashion 3D visual impact.
Touch Control: red, green, blue, yellow, cyan, pink, white, color changing. can fix one color or 7 colors gradual changing.
NOTICE: 3D just Visual, the lamp itself is Flat Unique Lighting Effects Amazing Optical Visual Illusion Home Décor Lamp.
Power: input 100~240V; Output: 5V, 0.5A. Retail Box Size: approx. 26*20*6cm
Energy saving. Power spend: 0.012kW.H/24 hours; LED Life Span: 10000hours.
Applicable scenarios: Bedroom, Baby room, Bars, Cafes, Hotels, Cinema, Clubs, University, Restaurant Atmosphere Light, Christmas gifts, Birthday gifts, Advertising Promotional gifts, Holiday gifts, Tourist Attractions gifts, etc..
Rating: 3.5 out of 5 stars
Customer Review: 286
Bioshock Infinite Bird/Cage Necklace
Look at these, they're amazing! Which one do you like more? This… or this?" The bird is beautiful, and the cage is somber… but there's something special about it.
beautiful bronze setting hung from a delicate 18″ bronze chain secured with a lobster clasp closure, or available with a brooch backing, with an image of a bird or a cage (your choice).
The size of the pendant is about 24mm by 30mm. Great for Cosplay! The details of your pendant's setting may differ slightly, depending on my stock, but it will always be one of the three different types of elegant bronze ovals pictured.
If you have a preference, you can let me know which setting you'd like in the Notes to Seller section at checkout. Necklaces and brooches are both carded with loss' logo on the front, and a quote from the amazing, timeless and prolific R. Lutece on the back.
Cards are stapled around the necklace chain, to avoid tangling in transit. Brooches are bagged, carded and stapled shut. Lace choker not included.
Rating: 4.8 out of 5 stars
Customer Review: 33
Minecraft Men's Creeper Hoodie Premium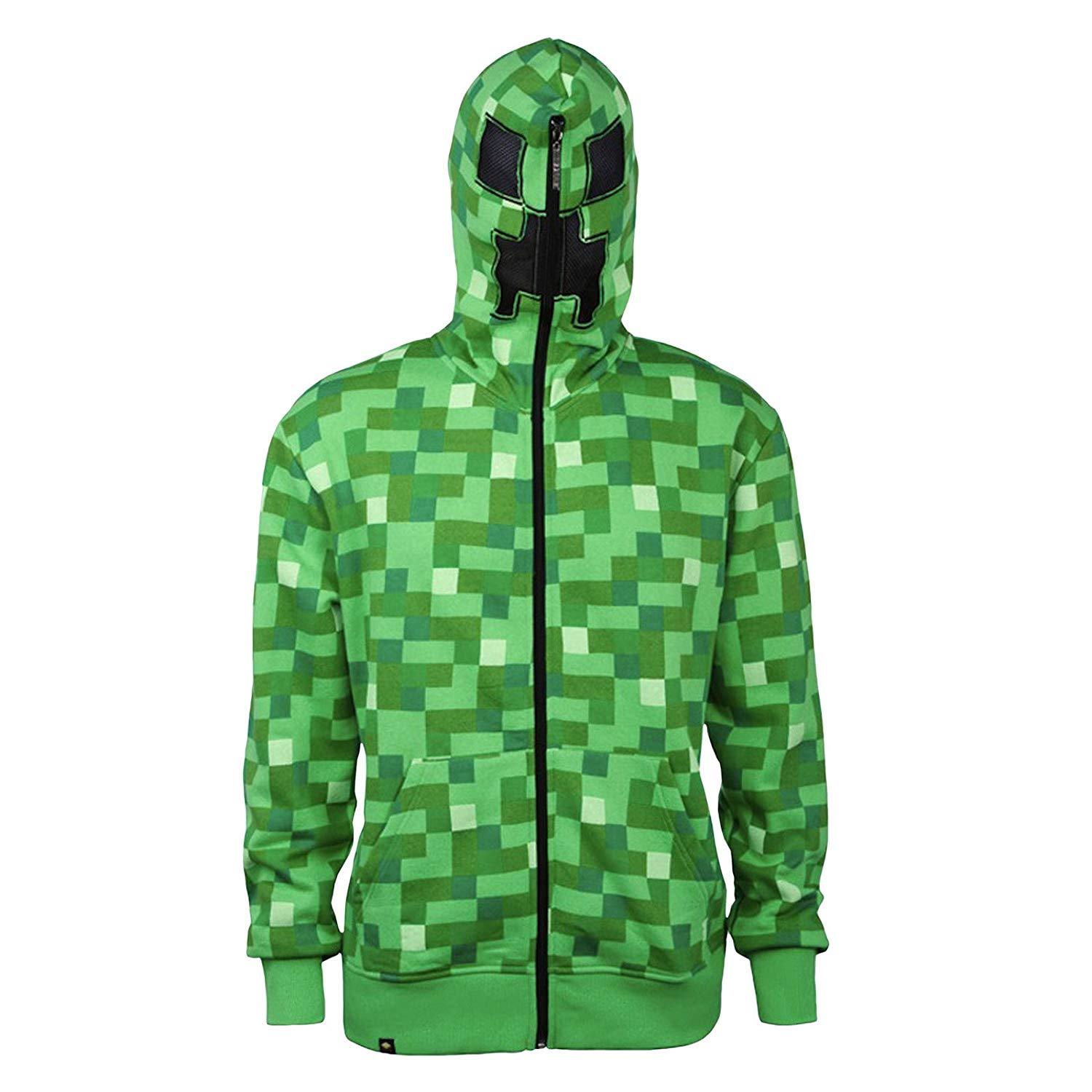 The Creeper, a looming threat to miners everywhere. Maybe you're off building a scale replica of the JINX Fortress when all of a sudden, you hear that click and hiss we all know too well.
Do you have time to turn and repel the beast? Do you have what it takes? Only one way to find out.
Now you can put friends and family through the fun of making the same decision when you sidle up unexpectedly in this full-zip-front Creeper hoodie. Hissing noises and explosions to be generated by the wearer.
60% cotton, 40% polyester fleece
Zipper closure
Machine Wash
AUTHENTIC GEAR – Officially licensed by Minecraft; designed and created by JINX
EVERY FAN'S FAVORITE – Green hoodie with Creeper block pattern and full zip-up hoodie featuring a Creeper's mouth and eyes (mesh construction for comfort)
ATTENTION TO DETAIL – Includes woven Grass Block clamp label at hem and custom Minecraft zipper pull
FUNCTIONAL AND FUN – Showcases one of the most popular hostile mob characters as seen in Minecraft video game
GREAT FOR ROLE-PLAY – Ideal for Halloween costumes and cosplay, conventions, parties, or just casual attire while playing the Minecraft video game.
Rating: 4.4 out of 5 stars
Customer Review: 603